Atlanta Appliance Repair
- Call Today!
Appliance Repair In Atlanta, GA
In Atlanta GA, we specialize in servicing and repairing appliances. We know that working appliances are crucial to your everyday tasks. That's why we have dedicated ourselves to helping people just like you in Atlanta with their appliance problems. If you have an appliance with a problem, don't hesitate to call and we will service it to perfection.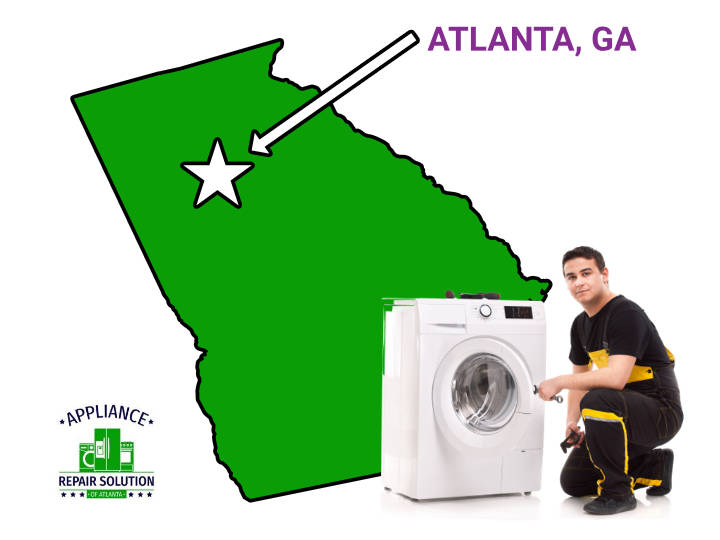 Service All Types Of Appliances
We service all types of appliances including refrigerators, dishwashers, washing machines, dryers, ice makers, microwaves, ovens, and any other appliance. No matter the brand we service them all, including:
Whirlpool
LG
Samsung
Frigidaire
KitchenAid
Bosch
Miele
Maytag
and more…
See the full list of appliance brands we service.
If you need appliance repair you can count on, or just got an appliance no one services, we can help. Call today and see how our experienced techs can get your appliances working again!
Work Around Your Busy Life
You are busy, you have so many things going on. That's why we focus on helping you get quality service fast! We take extra care to come on time, repair efficiently, and get out of your hair before you even know it. See the appliance repair services we offer.
If you're busy and got an appliance that needs repairs, call today and we will take extra care to get everything working quickly.
Atlanta is a metropolis in Georgia. With around 500000 residents, this city is full of life and is growing rapidly. Atlanta is full of parks and paved trails that line the city. And of course, there are appliance repairmen like ourselves, working diligently to service Atlanta's residents with care and professionalism.
If your appliance is down, call today and see how we can get your appliances in working order today!



Fill out the form and an Appliance Repair Solution Of Atlanta representative will be in touch.
Usually Replies In 20 Min
Free Diagnostic -
With Repair
A FREE $40 diagnostic with your repair in Atlanta GA. Call now and get your appliances fixed – Today!
What Our Customers Are Saying About Us
We Keep Our Atlanta Appliance Repair Customers Happy
I was put in contact with Appliance Repair Solutions by Angie's List. I am so grateful. My dryer went out and within 24 hours and in the cold rain, their technician Andriy was there and fixed it perfectly in no time at all. He was a very kind and efficient technician. I would highly recommend Appliance Repair Solution.
Andrey from Appliance Repair Solution was very helpful in resolving our dryer issue. Originally, our dryer was making a loud noise and he rebalanced to fix the noise. He also suggested cleaning our dryer vent, as it would help. Unfortunately I denied having our dryer vent cleaned, as I thought it was just an easy upsell and wasn't necessary. However, I cannot express enough how important it is to have your vents cleaned out every year or two. Andrey came back out and showed us how much lint and debris was backed up and cleaned it all out for us. Stand up guy and very informative. We had a misunderstanding early on and worked it all out in the end. A+ service ~ highly recommended.
EXCELLENT: technician arrived within time frame provided at time of scheduling; before he began work, he reviewed what the problem was, what needed to be done and what the cost would be. He completed the repairs and cleaned up thoroughly. He was patient and kind with me, my questions and my dog. This is our second repair experience with Appliance Repair Solution. We highly recommend in this public forum as well as to our circle of friends and will definitely call them again!
Top class service! Andrew/Andriy was fantastic. Our appliance conked out on Saturday night. Andrew came on Sunday and fixed it in a short time. Very knowledgeable, professional and very reasonable pricing. We were also impressed with the pride he had for doing a clean job leaving the work area spotless. We will definitely be recommending him to our friends and he will be our go to tech in future.
Andriy provided same day service for our broken dryer- he was efficient, knowledgeable and very professional.... He called 30 minutes prior to arrival and arrived on time and with everything necessary to complete the repair. We will definitely use them again!
They were able to work around my work schedule. They stayed in contact throughout the week making sure the had the necessary information to fix my broken dryer. The technician arrived on time and at the start of the repair window, even with numerous traffic delays. He was very professional and was able to identify and fix the problem in less than an hour, and left the area cleaner than before he arrived. He even went able his scoop of work and completed work that should be completed by the facilities of my apartment complex, and offered suggestions avoid the problem again.